---
Newsletter for May 2021
---
Hello arty people, Hope you are enjoying some magical autumn weather as we are. Got to be so grateful that we are able to roam around our gorgeous country and connect with people this time of year, after last autumn's restrictions, I am sure you'd all agree!
---
Our Quarter of a Century celebrations went off with a bang, and we must say a huge thank you to all of those who visited on the big day to join us with a glass of bubbles, and thanks so much to all our well-wishers for their encouragement as well!
---
It's been a lovely time in the gallery with so many Kiwi visitors roaming around, determined to enjoy what NZ has to offer, stopping off to visit our gallery and we have noticed that people tend to stay longer these days, taking time for themselves to view and discuss the art, not madly rushing off on busy schedules so much. Positive adjustments of priorities all around, at a guess.
---
Our next exciting news is that it looks like the Taupo Art Connection Queen's Birthday Art Trail is on again this year, having been cancelled last year, and we have a fantastic selection of local artists on the map, so please click here to find the information and please spread the word! Starting on that weekend we will be exhibiting many and varied new art works we are busy creating at the moment on the theme of our "Fine Feathered Friends!"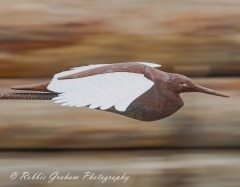 Kinetic Heron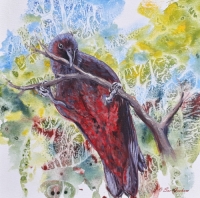 Cheeky Visitor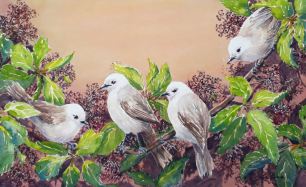 Whiteheads
---
Our latest outdoor kinetic butterfly, the Kahukura NZ Red Admiral will be fluttering out the front to welcome you in. Kinetic Butterflies PDF
---
Sue's Term 2 painting workshops will be held on Saturdays, so please click here for the information poster.
Click here for info
---
Bye for now, we're flying off like birds of a feather, to create some new original art for the big event!
---
Robbie and Sue Graham
Wildwood Gallery, Waitahanui, 141 State Highway 1, RD 2, Taupo 3378
Contact Us
ph: 07 377 0469 Home/Gallery ph: 027 237 8173 Robbie
website: www.wildwoodgallery.co.nz