April Newsletter
Welcome to our first lockdown issue newsletter! We'd like to send a very friendly message to all our art followers to wish you peaceful moments and good health during these challenging times. We do hope everyone is taking care and finding time to enjoy nature, creativity and beauty wherever you find it. Teamwork makes the dream work, so we are rising to the challenge of the "new normal" by connecting with more people on line, with our "Art Vision 2020" newsletters.
We'd love to stay in touch over the next few months and hope you will find our newsletters interesting and inspiring, with images of our original art to view, current art works in progress, art-making project ideas, upcoming events and special art offers for you each month!
Wildwood's April Art Vision Special Offer: FREE DELIVERY! Within NZ
Purchase any of our original art works by June 30 2020, and we will package and courier it to you within NZ free of charge! Once Lockdown is over ...
Wildwood Gallery's doors may be closed right now but Robbie, Sue (and Zep the cat!) are still being creative in our bubble so watch out for our Virtual Gallery tours coming up on Face book. You can view samples of our art work on our website, or check out our Face Book pages for more current works. If there's a certain type, size or subject you might be interested in, please simply email us to request images (e.g. medium sized, unframed watercolours of native flora, or wood-turned gift from NZ native timbers under $200, etc.)
Presenting Sue's latest large acrylic triptych on 3x heavy quality NZ-made stretched canvases, all in artist quality materials and finished with protective satin varnish. Robbie's clever triptych hanging system is included so the whole artwork can simply be hung from just one hook! Dawn, Day, Dusk See image here: Click Here (Centre: Last Day of Winter, Right: Spring Whites)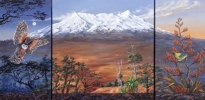 I have been just loving working on this mighty triptych for several months. It represents to me the ever-changing colours, light and atmosphere of the Tongariro National Park over 24 hours, and features iconic native flora and the precious forest inhabitants. The ruru (NZ native morepork) does his fly-by through the beech forests as the moon rises over the shoulder of Mount Ruapehu. Forest sentinels such as the toii (NZ mountain cabbage tree) stand agelessly in the valleys surrounding the snowy sunlit slopes. Korimako (NZ native bellbird) sings his tuneful dawn chorus as the light creeps up Ruapehu's eastern flanks. Here is my free Autumn Leaf Painting Project for anyone keen to try some painting!
Click Here
Presenting Robbie's latest art work: Ragged 8. Wood: Olive, Height: 275mm, Diameter: 125mm See image here: Click Here The two other pictures are of new work as well.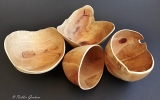 We do appreciate your support of our art making over the years, and look forward to continuing to be able to provide our top quality original art, all locally inspired, designed and created right here in beautiful NZ: visual arts from our hearts! Let's all Shop Local to support NZ businesses during these trying times by shopping for NZ made creations.
Coming up in later issues:
More special offers each month, surveys, competitions, art-making projects, virtual gallery tours and our exciting art event planned for the end of 2020: watch this space!
Stay safe in your bubbles and please feel free to forward this newsletter on to other art lovers.
If you would no longer like to receive this news letter please click unsubscribe
Robbie and Sue Graham
Wildwood Gallery, Waitahanui, 141 State Highway 1, RD 2, Taupo 3378
Please use this email:
wildwoodgallery@xtra.co.nz
ph: 07 377 0469 Home/Gallery ph: 027 237 8173 Robbie
website: www.wildwoodgallery.co.nz